Welcome to my Virtual Artisan's Gallery Online Sales Booth!   This week for Breyerfest I have introduced 2 new micro / bantam scale editions (Hazel B and Uptick B), as well as taking reservations on recently unveiled new editions micro / bantam Crouton and Ranchita below!
PLUS SECONDS of course!   Scroll down for the seconds.. I will be putting out various new lots and items there throughout the weekend.   All items will be shipping as fast as possible.. & Thank you for stopping by!
---
These 3d prints are being produced & shipping at a rate of around 25/week so the earlier you reserve the sooner you can get your copies!  Easy to clean and paint!
---
About these 3D prints***
Click to open and see this photo HUGE and how clean castings can be! ***My 3D Printing is being done by Khrysalis Studios – Art by Rayvin Maddockc using the same technology she used to produce 500 micronaut prints. These are being heat and UV cured for added strength and while still a tiny detailed work of art, is a lot more forgiving than many 3d prints I've had (and I've been cleaning them in various sizes and all kinds of printing materials for my editions since 2005!). These 3D Printed castings have NO SEAMS and very few little sprue-like bumps from printing supports that sand away extremely easy. They are fragile like any tiny resins or pewters. Know too they do not bend with heat. They clean up quite quickly and require MUCH less primer. Some faint printing lines can be seen but are part of the process and typically buff out with a soft nail buffing sponge or even disappear with initial layers of primer. I opted for this media due to the ease in prepping and ability to give customers details much closer to the original large sculptures as much as could be possible in this tiny scale! This is fine art, not a toy. Fragile & Not suitable for small children.
---

Tonight's 6pm Live Stream Giveaway will be using PREGISTER #s.  You can preregister here;  https://www.facebook.com/events/328053335250124/permalink/328054278583363/
Please read the rules. I am TRYING to copy/save all the names to make sure I don't loose anyone if that glitches but no promises.  In future events I will have people use a different method to preregister.  It's trick to find something foolproof.  Drawing names IS the easiest and I might just go back to that but I do love random number generators too for absolute transparency.
NOTHING BUT BITS OF PACKING PEANUTS AND PAPER DEBRIS REMAIN….
THANK YOU FOR LOOKING, there are still some Uptick seconds available below for sale!  I will leave these for a little bit longer…
Hope everyone has had a wonderful Virtual Breyerfest!!!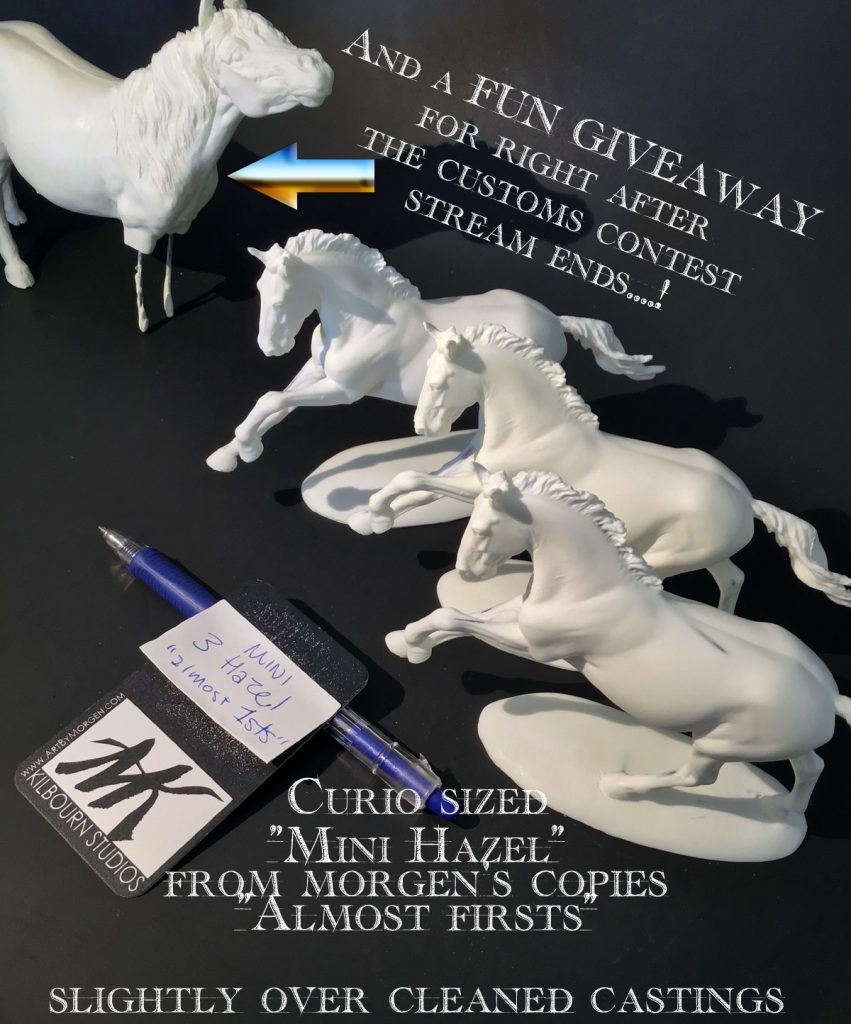 3 Mini Hazels from my own collection I found.  I only need one so save these  SOLD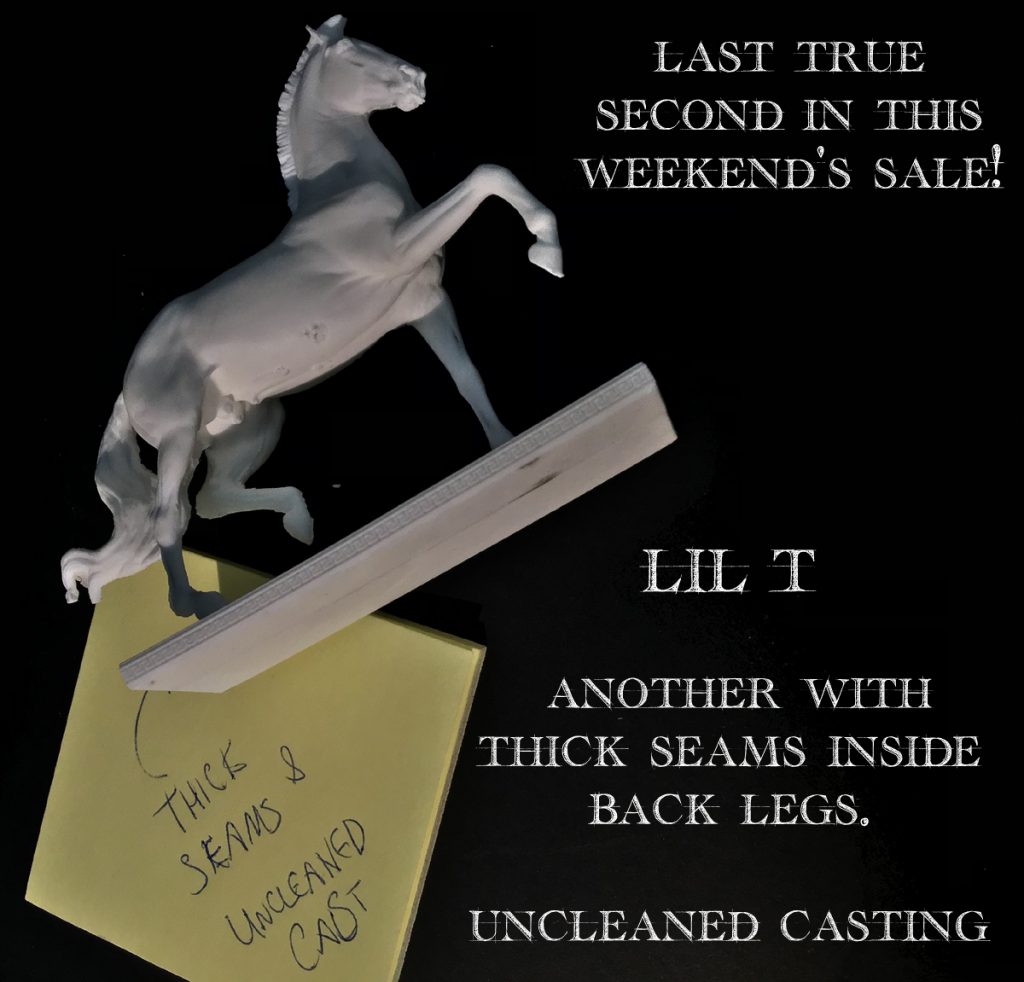 I found another one of these in the box too.  Little thicker than yesterdays but all in the same spots still!  Just between legs mostly.  Raw casting.  SOLD
So these were held back in the hopes that they could be seen in person because they've been cleaned and really are very nice!  Easy fixes!!  $35 postage paid (Quantity of 30)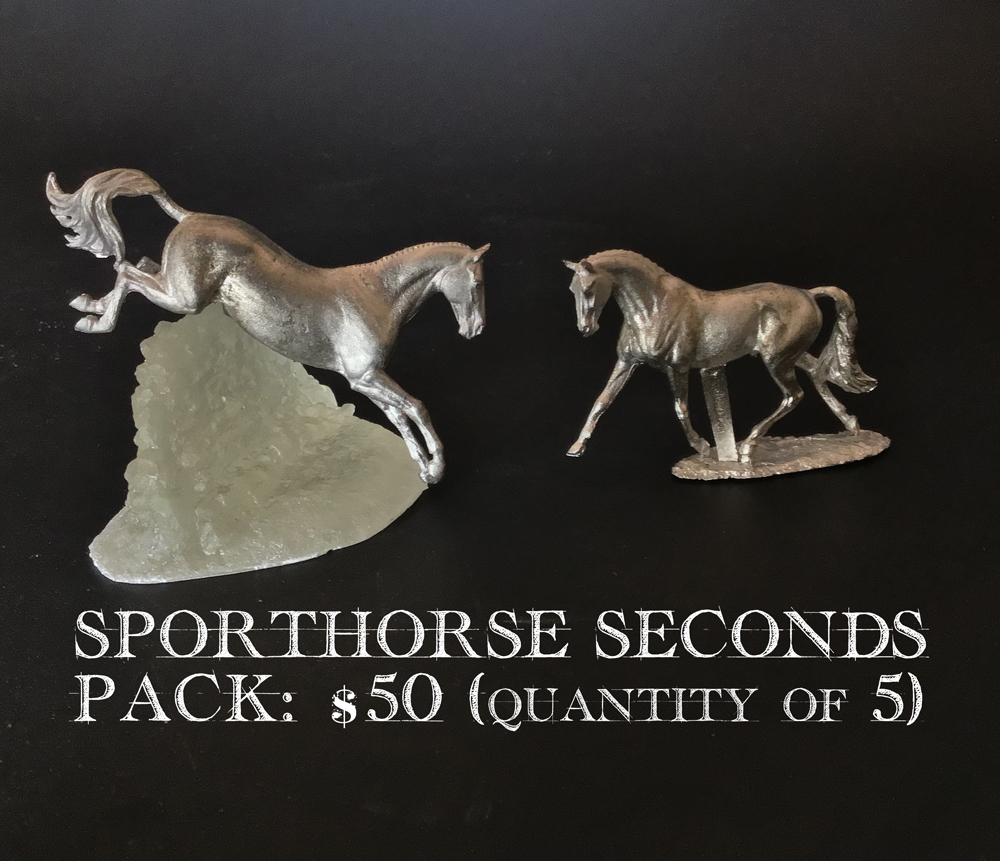 Second pack of 2 pewters, "Diminutive Duke" is a raw copy and the Uptick has pitting and the base peg is broken.  Easy fixes!  See Diminutive Duke's web page on trimming the thicker sprue support there.  Super deal at SOLD OUT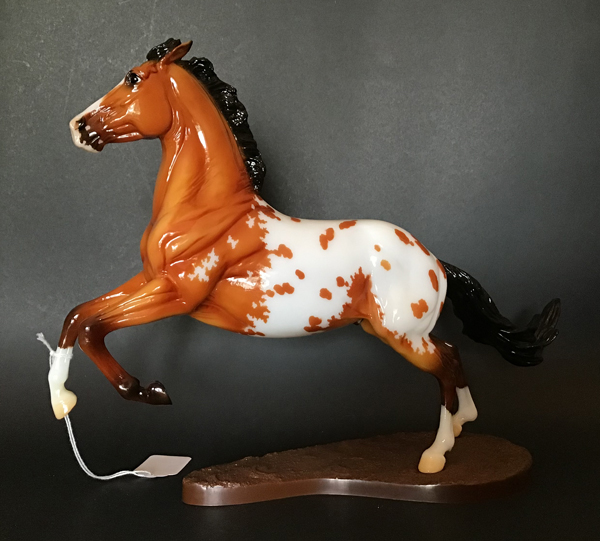 SOLD
Pottery Second! From the Equidae of Antiquity Series  
It was intended to look like an ancient relic, but the spray of the glaze is more grainy than I'd hoped (see enlargement below) .  This was a clay body custom from my "Tetradrachm" sculpture.  SOLD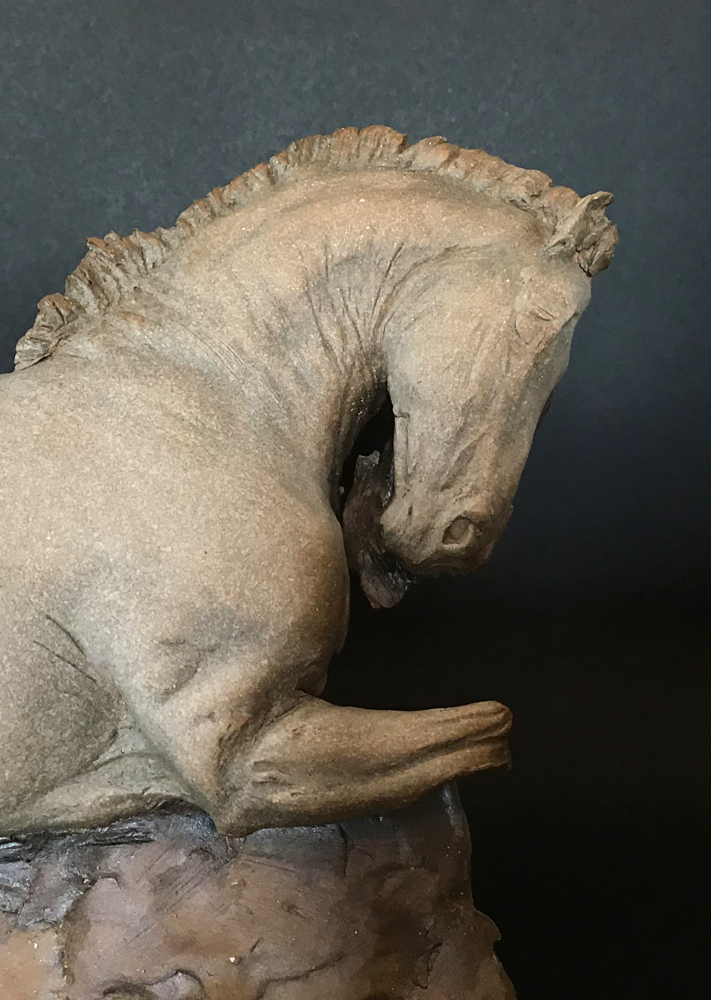 UpBity 2nds – only excessively sanded underside spots, easy to salvage, best deal!!! Sold  out
 
These (unpainted) are not really seconds but they are a little older and not pristine white."TANGO" medallion $30 ea ppd in the US (QUANTITY OF 3) SOLD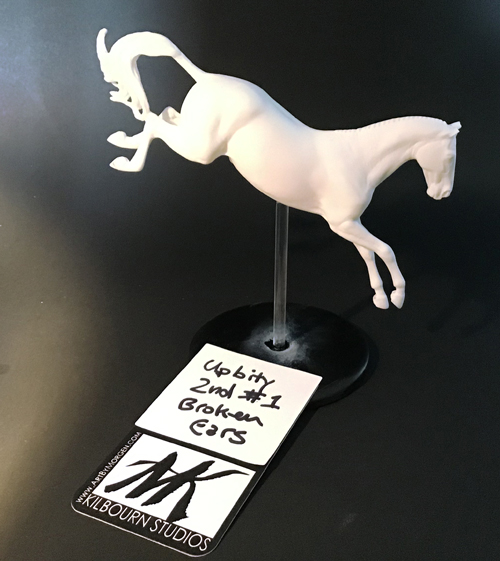 UpBity Broken Ears (QUANTITY OF 1)  SOLD

Lil T thick seams (QUANTITY OF 1)  SOLD

UpBity 2nd with broken tail,  heavily sanded belly and 1 ear missing (QUANTITY OF 1)  SOLD
---
POSTED 8pm EST 7/10/2020   Click images to enlarge and inspect closer….  CHECK BACK TOMORROW (Sat) at 2PM for MORE!!!
THROUGHOUT BREYERFEST WEEKEND a NEW SET OF INVENTORY WILL REPLACE THESE!   And so on… throughout the weekend…!!!