Inside the Studio – Works In Progress & More

Below find works that are nearing completion for edition release – as well as works that are mere concepts waiting for their moment to come. Often works can take no time at all to complete it seems. Since I sell my own editions I prefer to strike when the iron is hot so to speak – meaning that often I put projects on hold. I have sculpted some works very quickly and left other sculptures to languish indefinitely.
Most of this page is a summary of years of blog posts, it would be too complicated to link to every mention but for more in depth details and discussions, see my studio blog and of course the comments.
Scaling up or down works now with techonology takes very little time at all. Mostly I have scaled down works but I'm looking forward to utiliziing this technology to grow a sculpture rather than reduce in size. For now one project I'm working on is scaling up a work using measurments rather than technology – it's much slower and loses accuracy of course, but it's free techology.
So there is always a "story" that's behind what compelled me to create a horse. Sometimes that story is a bit hard for me to verbalize – chatty as I might seem! For me it's often more the need to create some kind of exciting energy or personality trait.
---
Tetradrachm
I could say so much here tha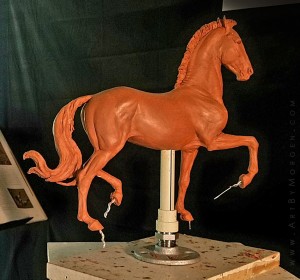 t I don't know where to begin. I will simply share him as he is today, and my blog post (click here) goes into some of my inspiration and a tad about how I am researching an ancient horse type.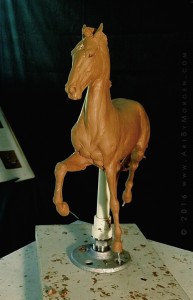 ---
---
---
The Equidae of Antiquity: Studies
These are mezzo-rilievo (half-relief) ceramic on stand. 22 – 30 inches tall. I have completed a couple (top of page for instance) but am working on a whole series to be part of a show in 2018 that I am having.. or sooner if accepted into any juried shows.
I may or may not do casts (depending on any number of factors).  These are as much an exploration of a new media (fired porcelain-like ceramic clays), as they are of the subject matter itself. I do love making them though and hope to do a very large number.
So the general point of these relief studies (on a similar vein to Tetradrachm) is to recreate the various breeds shown in Classical and Hellenistic greek art and literature (ok, mostly just Xenophon!) with a hair less of the stylizations seen in art of that period (and i suppose stylization of my own time today!).  😉 These horses depicted are in the style of master sculptors such as Phidias are to honor the now extinct breeds of the Nissean, Thessalian, Scythian and other breeds depicted in various sculpture and the few surviving vessels.
To see completed pieces and more in progress photos >> click here
---
Landing Jumper
Something new from this spring with only a few hours into it so far is this landing jumper sculpture.  With only a couple days work on him I shouldn't share this one so soon but I will all the same. He's really "speaking" to me and I hope to finish him in 2016!
---
Hunter Bust
Something new I haven't shared yet is this bust of a Hunter type horse. This one was started as part of a demonstration but is finding a life of her own.. so many things might change about her still!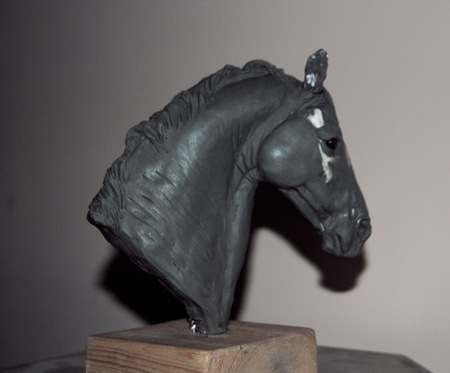 ---
Pride and Prejudice
~ 3 inches tall — Inspired by mules I photographed a few years ago at the Benson Mule Days parade. Also not too far off from being completed at this point as well!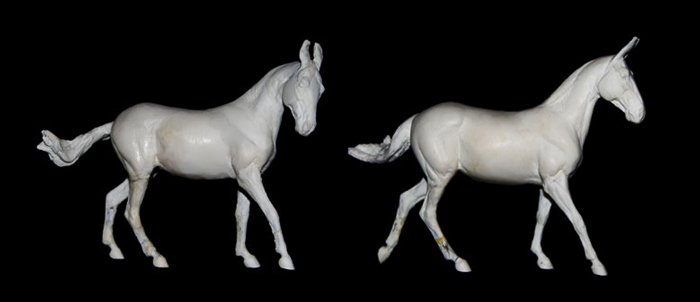 ---
| | |
| --- | --- |
| Frisbee catchin' dog! | |
Really there isn't much more to explain about this fun guy except that he's probably destined to be earthbound by a base of long grass reaching his feet. I've been wanting to sculpt a dog forever now. I cheated some on the armature & reused my squat little minature horse "Kipling" body (the clay gets destroyed in demolding). Anyhow, but you can see I had to lengthen the limbs and add a tail. That's a gallon milk jug top (lip cut away) to give an idea of size. Too fun!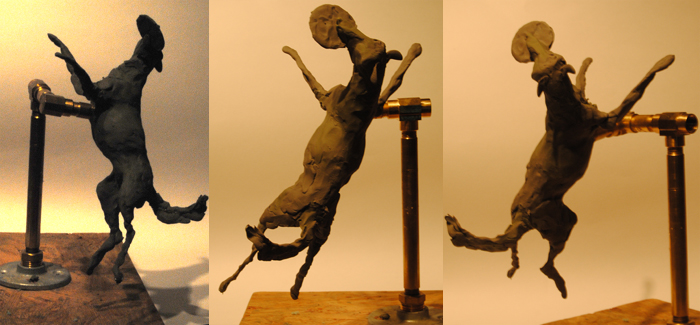 ---
Unnamed Friesian foal – maquette for life sized
~ 6 inches tall
There is a blog post and several comments following it that explain this guy so much better (click here)