About Tetradrachm  AVAILABLE IN BRONZE
LIMITED TIME RESIN EDITION CLOSED
Head high he stands approximately 11 inches tall by 12 inches long.  He is being cast as a 1:9 scale (traditional scale) hollow cast resin with a permanently attached base with stainless steel  reinforcement.
Prized stallion of the ancient Greek coin springs to life based upon art of the ancients. Representing extinct breeds such as Nisaean, Etruscan, Thessalian and Scythian. He is the horse of Xenophon and Alexander the Great.The cherished noble ancestor of many fine modern breeds today.
He trots over stone pavers accurate to a specific entrance into the ancient city of Troy.  With a tiny mane style change he could represent several gaited, carriage and oriental breeds today as this proud noble bearing is timeless. More on the inspiration below.   PDF of Breed Information and Meanings Behind Inscriptions on the Base
Edition Information
LIMITED TIME TO ORDER – Limited Edition Now Closed Information is Archival

Priced with shipping was $285 ppd *
shipping is included in US,
*International orders will need extra postage
Several Ways to Buy!
Pay in Full (shipping asap – mold 1 is CURRENTLY being made so castings to start shipping mid Oct 2016 at a max rate of 10 per week)
Three types of Time Payment plans READ MORE TERMS OR START YOUR PAYMENTS
* To pay by check or Money Order just contact me
Castings ship in the order they are paid off in full and a queue may be created to allow customers to see how long a wait they may have for castings (may be several months from the time paid off). Those orders paid in full sooner will ship sooner.  AS OF JANUARY 2018 All paid in full orders shipped or contacted.  If you paid your copy off but have not heard or received please contact "  morgensminion@kilbournstudios.com " and we'll work this out!
See also "Shipping time frames" below.
— Paid in Full WAS $285 postage paid—
Castings Ship in the Order They WERE Paid (see above) Change quantities in the cart for multiple orders!  See also "Shipping time frames" below. 

BUTTON REMOVED

Please Add Additional Shipping (below) for International Orders. If Multiple Orders Add Shipping 1x for up to 2 shipped together. Note that these may ship later due to backlog.
Please Add International Ship For Your Tetradrachms***

  Add $20 for shipping up to 2 castings to Canada

  Add $40 for shipping up to 2 castings to  AUSTRALIA and NEW ZEALAND

  Add $35 for shipping up to 2 to GERMANY, the UK and all other countries
*** Note sh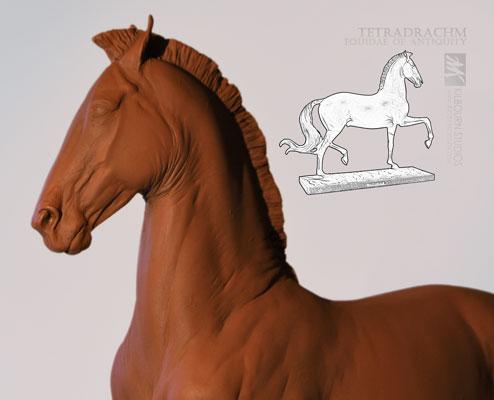 ipping prices may increase at any time due to USPS rate increases
TIME PAYMENTS: 
There were 3 Different Extended Payment Plans!!!— READ MORE TERMS
$50 Deposit & pay off at your own rate
or choose 12 Monthly Payments of $23.75 ea automatically paid each month
or choose 6 Monthly Payments of $47.50 ea automatically paid each month
IMPORTANT FOR ALL TIME PAYMENTS: When your final payment has been made be sure to also send me an email with your current shipping address! ***(please read their terms I do not control this feature!) § Deposits and payments are non-refundable.
---
Paying by Check or Money Order
The same prices apply but simple send a message to both of the following two email addresses;
morgen@one-horse.net; artbymorgen@yahoo.com to verify and get mailing address.
---
Payment Methods Accepted (Applicable to Time Payments too)

Payments can be made by PayPal, credit card invoicing or by phone, or by mailing a check or money order to me directly. Please email me for my current snail mail address when mailing any check and money order payments.

Please send all inquiries to both of the following two email addresses;
morgen@one-horse.net; artbymorgen@yahoo.com

Paypal payments should be addressed to morgen@one-horse.net

If for any reason you feel I may have missed a question please do not hesitate to inquire! I always try to confirm payments within a few days so these confirmation emails may be going into your spam filters.

Alternate contact information is always appreciated as well!
Orders Will Be Confirmed Via Email
If you are not getting replies from me my emails may be going into your spam filters or not getting to you for some reason. The internet is a fickle creature. Please allow a reasonable amount of time for response but if you do not hear from me within a day or two please don't hesitate to write to me again using both email addresses (morgen@one-horse.net; artbymorgen@yahoo.com or surf in and see the contact page) to ensure your message gets through.
§ Reservations are Always in Advance of Casting
This surprises many people but I do not order many more castings than are purchased.  So each casting may need to be made specifically for you when you order (also this means we do not always ship in fast time frames like Amazon or big businesses). Your full deposits and often initial payments are entirely used towards molding, casting and shipping costs and thus these are non-refundable for this reason. In fact usually deposits do not cover all of the costs involved! For this reason, as I cannot return boxes, peanuts, portions of additional molds made to order and all the costs per casting, I cannot refund deposits for any reason.
Shipping Time Frames
As of Aug 2018 all orders paid for have been shipped or will ship within a few days.  Final order pay off customers please understand that it will take a few days to a few weeks from time of order pay off to ship (direct from caster). In general: Castings are not always kept in stock; castings are ordered & created only when you place your order so a backlog can and often does form towards the final days of an edition.
Often at the beginning and end of any edition there is a large number of paid in full orders to get through. Even after these are caught up on very little inventory is kept at my studio; castings are created only when paid for and then shipped to me. I inspect then and ship them to the owners. This takes time, up to a month without delays and often if there are people in line ahead of you it can take longer, it is possible to refund your order any time if you do not wish to wait.
Shipping of castings will happen as promptly as possible. They are cast, shipped to Morgen from the caster and then inspected and packed by her and are sent off to you. Delays of weeks or possibly a month are possible when large groups of orders come in, even if paid in full. Your patience is greatly appreciated.
Eventually with all editions castings start to ship when paid off however it is impossible to predict when delays will come up as groups of customers may pay off and create another temporary backlog.
Special Holds on Shipping
If for some reason you need a shipment held on to (or for any questions!), please contact me.
Getting Your Unpainted Resin Finished
At this time I am planning to focus primarily on the sculpting and leave the finishing work to the many many wonderfully skilled painters that are out there (under the "Find a Painter" page – button up to the left – you'll find many terrific painters to chose from!). Please do check on my Find a Painter page as I'm adding new names all the time (newest names are appearing at the top).
In my travels around the web I'm learning that nothing seems to be set in stone about the ancient horses .  As the Greeks and Romans were conquerors they were bound to take on the best horses from various locations and as a people who valued aesthetics they also fashioned them through careful breeding.   I do know that as the Roman empire fell these breeds fell to the way side.  I urge customers to enjoy reading up on the breeds migrating out of the Persian empire and the Nisaen plains.
SPECIFICALLY HORNS: Much is said about horns.  The boney knobs of the living rare breed of Moyle horses may or may not have been present in the horse of Alexander the Great's time.  I've dug long and hard (with a keyboard and mouse) to see if I can spot anything resembling this on skulls of the many many chariot horses buried in harness.  I have not *so far*.  I'm sure it's possible but I decided since I couldn't find artistic nor archeological examples that I'd leave those off.  I do fully believe that "Ox Headed" refers not to temperament but rather an orbital axis and frontal sinus similar to that of the living Teke horses with a non-hooded eye.  Almost what you would see on a current day Saddlebred with a greater depth of jaw, or almost like that of the Morgan horse but perhaps more domed at crown.
SPECIFICALLY GAITING:  I do believe that many of the riding mounts of the era were gaited.  In most art, coins vessels and otherwise you see a movement of feet always in nearly the same pose which could be interpreted for a walk but that look suspiciously to me like the Paso Corto movement.  Which is that the leading rear leg is not flat down but more like single footing has a hint of flexion still.  I feel that too many regions over a long millenia of this exist.  Superseding what could be argued as artistic interpretation of the walk or prancing this lateral gait is just too uniformly seen.  Especially as the lateral gaited movements are depicted on horses otherwise fairly accurate in other respects (tack and build) which suggests there were no accidents in the gait footfalls portrayed.
That said, I chose to make this piece trotting a standard trot. I used many living examples of horses today to do so:  Dutch Harness horses and Hackney horses especially but also Saddlebreds,  some types of Arabians and Morgan's photos were helpful.  I feel that with a tweak of his mane he would be a fine representative of *some* of those more sound performance oriented horses today.
A Personal Note from the Artist – the Equidae of Antiquity Series

As you can see from the above comments I find there is much to say about breeds and it's been more of a journey for me. When I started Tetradrachm (see
blog post
) it was my first foray into this genera.. now I'm working on a series of works on these ancient horses, primarily in hand built pottery. I hope to make another resin in the gaited pose however.   Read more about this here: 
http://one-horse.net/ks/the-equidae-of-antiquity-studies/
  although I guess now I need to update some news on that page too I guess! 😉