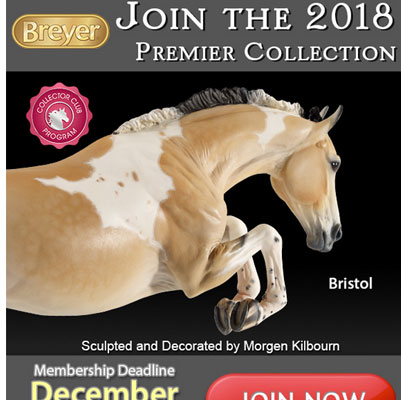 BRISTOL PRESALES —> THESE ARE NOT IN HAND, MIGHT NOT ARRIVE TO MORGEN OR TO COLLECTORS UNTIL MAY PROBABLY OR MAYBE EVEN JUNE!
All copies sold – thank you for the interest and enthusiasm everyone!!!
 These will stay mostly or totally unopened packages (if you don't want them signed I won't even open) – they won't ship until Breyer ships them all.
I will NOT inspect these or itemize issues for buyers- in part I'm offering for nearly the Premier Club cost as suggested to me rather than asking more and detailing every tiny flaw with pictures…. my lack of time is your financial gain here!  🙂  Please reread that carefully before buying;  if you want a flawless copy, then this offering is perhaps not best for you.
I will leave these wrapped head to toe BUT am happy to sign bellies or bases if that is possible.  As with other sculptures I will write the standard signature (shown here on a belly) and can – if you want – add the print "MK Artists Copy #[1-10]" (see to left). 

I am keeping one boxed copy for myself and preselling 5 boxed and 5 unboxed copies here.  I may have a couple more I sell later on but am undecided.  I received a couple more this time due to designing the finish as well.
SHIPPING IS EXTRA AND ACTUAL COSTS WILL BE CALCULATED AND BILLED VIA PAYPAL INVOICE.  Breyerfest pickups are fine however if you wish instead at no extra cost.
Boxes include COA from Breyer.  Unboxed contain COA [I believe] also.  I am unsure about the serial #s to be honest – it's most likely all horses have serial numbers as others sold to Premier Club members have.
If any of the buttons below aren't working please email asap to morgen@one-horse.net When sold each link should take you to a page which says 'item sold'.
---
Boxed, Artist's Copy #1  SOLD  (you don't have to decide about signature before purchase – just tell me later)  $225 (actual shipping not included read above)
---
Boxed, Artist's Copy #2 SOLD  (you don't have to decide about signature before purchase – just tell me later)  $225 (actual shipping not included read above)
---
Boxed, Artist's Copy #3 SOLD (you don't have to decide about signature before purchase – just tell me later)  $225 (actual shipping not included read above)
---
Boxed, Artist's Copy #4 SOLD   (you don't have to decide about signature before purchase – just tell me later)  $225 (actual shipping not included read above)
---
Boxed, Artist's Copy #5   SOLD (you don't have to decide about signature before purchase – just tell me later) $225 (actual shipping not included read above)
---
UNBoxed, Artist's Copy #6 SOLD (you don't have to decide about signature before purchase – just tell me later) $225 (actual shipping not included read above)  MAY OR MAY NOT have serial number (many of my Bobbi Jo's did not but my True Norths did)
---
UNBoxed, Artist's Copy #7 SOLD (you don't have to decide about signature before purchase – just tell me later) $225 (actual shipping not included read above) MAY OR MAY NOT have serial number (many of my Bobbi Jo's did not but my True Norths did)
---
UNBoxed, Artist's Copy #8 SOLD (you don't have to decide about signature before purchase – just tell me later) $225 (actual shipping not included read above) MAY OR MAY NOT have serial number (many of my Bobbi Jo's did not but my True Norths did)
---
UNBoxed, Artist's Copy #9 SOLD  (you don't have to decide about signature before purchase – just tell me later) $225 (actual shipping not included read above) MAY OR MAY NOT have serial number (many of my Bobbi Jo's did not but my True Norths did)
---
UNBoxed, Artist's Copy #10 SOLD  (you don't have to decide about signature before purchase – just tell me later) $225 (actual shipping not included read above) MAY OR MAY NOT have serial number (many of my Bobbi Jo's did not but my True Norths did)
---