I've decided to mostly leave off illustrations and paintings from this page. Those can be seen off of my bio page where I link to samples of my old graphic design and illustration work, and a resume of my commercial and corporate experience.
Sculpting for children's toys are one of the most important responsibilities an artist can have and I have relished those assignments! Its a bit of a joy and a challenge to make these horses fun and stimulating and I believe pretty strongly that kids minds should be nourished with the most realistic and inspiring art we can give them.

---

---
---
Peerless
Coming soon.  8 inch long by 6 inch tall cold casting.  May also come in white resin.  Details not available yet.
Portrait of an old friend.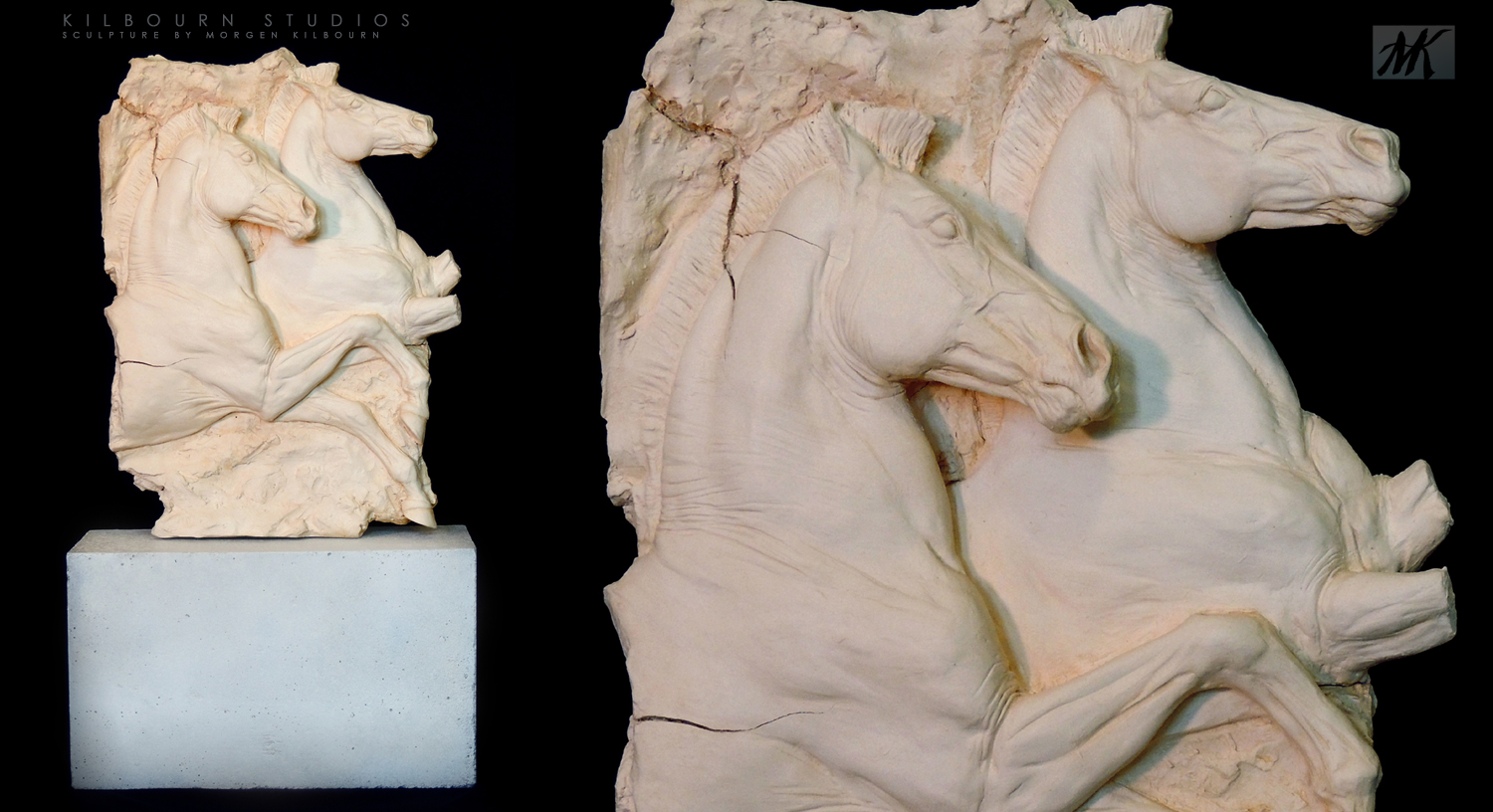 The Equidae of Antiquity: Studies:
This bas relief pottery trio was sold during the opening of a gallery show in 2018.  2 Out of 3 pieces were seen in a museum tour with the Society of Animal Artist's Art and the Animal annual exhibitions and the top piece was featured on the cover of the Brookgreen program for that year's tour.  Learn more about thoughts and aims of this series >> click here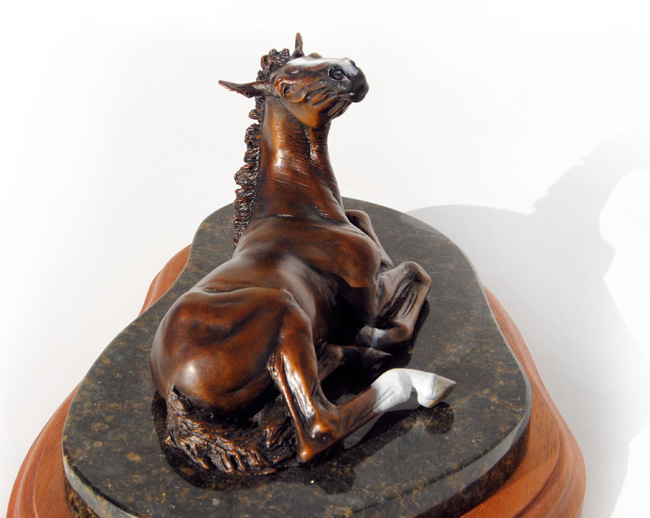 Summer's Bliss
3.5 tall x 6.5 inches long (without base)
A portrait of the artist's own Thoroughbred colt Mango Jam (or "Little Man") at four months old. He is portrayed as a sleepy little guy ready to sprawl out in the sun. Approximately 3.5 tall x 6.5 inches long (without base)
Very limited edition available in galleries and by preorder – Click here to learn more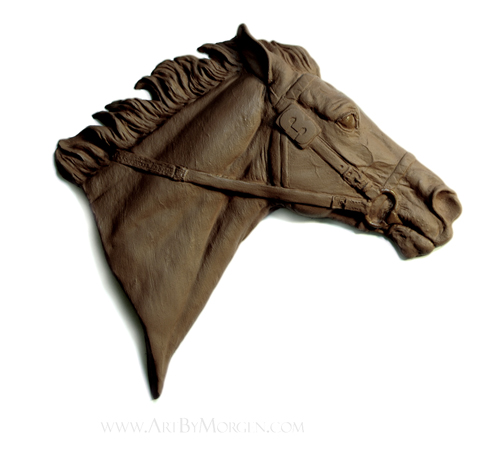 Elmhurst
(sire; Wild Again, dam; Mimbet) $1,065,322 in career earnings. 1997 Breeders' Cup Sprint winner, the 1990 gelding came to Our Mim's Retirement Haven (OMRH) in Oct of 2011. Our Mim's was Elmhurst's grandmother and the organization was founded in her name so they are thrilled to provide a retirement home for her accomplished grandson.
This hanging ornamental medallion is being sold as a fundraiser by OMRH, a 501(c)3 charity that houses retired Thoroughbreds.  Visit Our Mim's Retirement Haven
Mini Hazel
Small curio scale (~1:30) the popular sport horse mare is back in mini!
Available to order in white unpainted resin!
Bobby Jo – for Reeves International / Breyer Model Horses
Released in the summer of 2015 Breyer's new spinning stock mare mold "Bobby Jo " was released as a Premier Club special first in limited edition. Ordering is closed for this premier release but information can be seen here on their website. Bobby Jo molds might be seen in stores as soon as 2016 but very likely will be sold in stores in the future (the same as Wyatt below).
Sly Lassie
1:24 scale fiesty young Irish Cob mare Edition closed.  Click here to learn more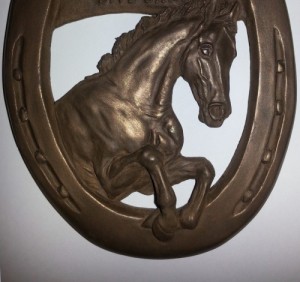 Trophy Medallion
2015 Commission for show series
Wyatt – for Reeves International / Breyer Model Horses
Released in the spring of 2014, Breyer's new mold "Wyatt" will be released as a Premier Club special first in limited edition. Ordering is closed but information can be seen here on their website. This mold is now available in stores in various colors and model names.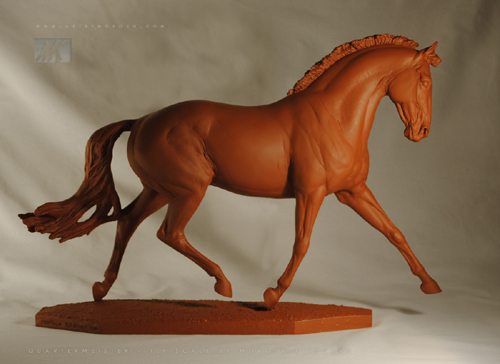 Quartermeister
10 inches tall and 16.5inches long, he is a full sized 1:9th scale Warmblood!
Preorders only have been sold to date but an open ordering period for a limited time will be coming in March. View all photos and details here
Ranch Mare – Two Versions
Traditional 1:9 scale at 14.5 inches long from toe to tail and approximately 9 inches tallshe's game to tackle literally any job and kinda looks cute doing it too!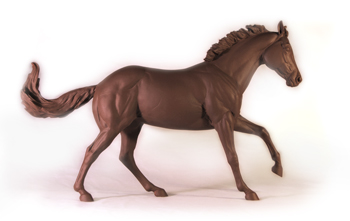 Was a limited time edition in unpainted resin, for details and more photos click here
Magic
4 inch wide medallion
Handful of copies sold through the studio outlet page in Dec 2014. Edition still to be released in the future possibly around holidays!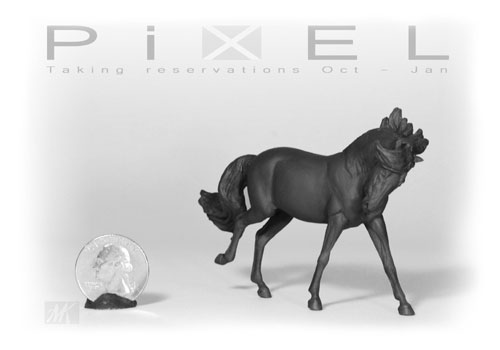 Pixel
2.5 inches tall at the tippity tip of his mane, by 4 inches long
Released in the fall of 2013. Feisty little 1:32 scale Andalusian stallion tossing his head defiantly but ready to win his way into your heart. He fits easily in the palm of your hand!
Pixel's gallery and archived sales information can be viewed here. Click here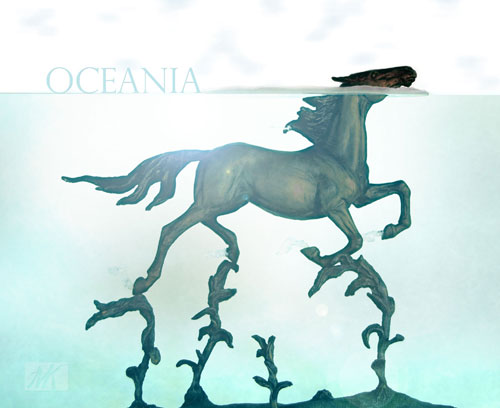 Oceania
At 1:16 scale (curio sized), this vivacious handful represents a young athletic mare valiantly swimming her heart out. On her seaweed base she stands just over 8 inches tall and from her nose (or water) to streaming tail is nearly 8.5 inches long. Because the option of magnets to hold her to this base is a bit unsual I've made an interactive video as well.



Limited time edition  to view details and more photos click here
Maxixe de Barrios
~7″ tall small 1:9 scale Criollo stallion
Max was sold as a 2 month Limited time edition – Offered from April – June 2012 More images & archival information here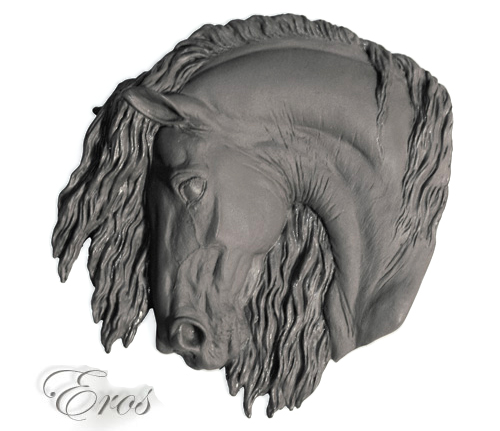 Eros
2012 limited time edition offered for that year.  Bas relief ornament of baroque style horse information here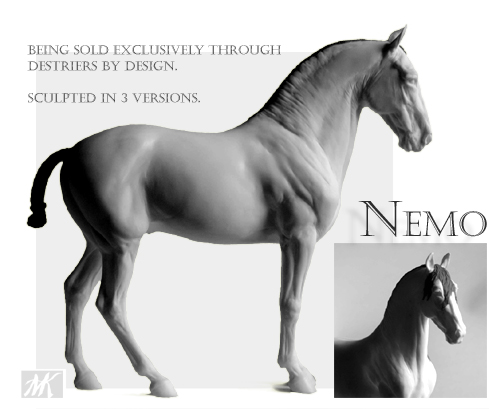 Nemo
Iberian stallion in classic scale, (1:12) 7.5″ tall, 8″ long
Sold exclusively through Destriers by Design, Morgen has no involvement or information on the timing, availability, prices or any aspects of the sales of this resin.
Three versions were created; fully braided (as shown left), loose hair (inset) and hair prepped.
All rights to Nemo belong to Destriers by Design and he was offered exclusively through Wendy Galbreath at: Destriersbydesign@gmail.com   Please contact her regarding all questions
For more photos; click here.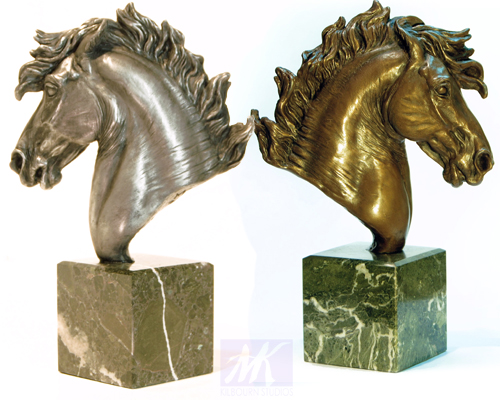 Baroque Horse Bust
6.86″ tall (on base) by 4.5″ wide
2011 Sculpture produced only to date in cold cast metals mounted to marble bases in various color combinations. Currently offered in a few galleries and through occassional sales, such as eBay.
For details and possible ordering information, please click here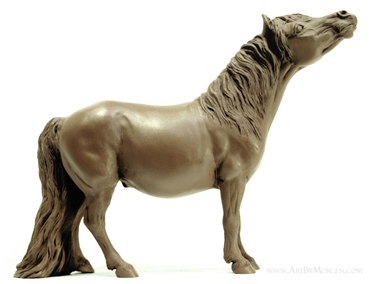 Kipling
1:9 scale pony – This lil' fellow with the beseeching eyes stands just a hair over 5 inches tall (at the tippy tip of his hopeful nose) and just under 7 inches long at the end of his tail. He's a mischievous little devil of a gelding who has certainly gotten his share of treats and who also knows how to charm you out of just a few more! Kipling represents one of those smallest of equines found the world over who somehow seem to have the most colossal personalities!
Prices started at $175 ppd (or $155ea for multiples) and only required a $50 deposit to reserve a copy)
Archived ordering information here (for time payments still to be completed) Edition closed at around 100 sold with 10 artist's proofs.
Offered in resin only from Sept 1st through Oct 2nd 2011
Also has been produced in Fine Bone China with a few left to go in the edition – view gallery and details here
"Joe Reed II" – Very limited edition (under 10)
This is a very limited edition "Joe Reed II" memorial tile, I made these for my aunt and family. I hope to a some point create a memorial website with video footage I have from the 1940's of the real stallion "Joe Reed II"  on Bert Wood's ranch and some of my extended family ( ~ 20minutes of footage to pare down). This is unique enough to have film of a breed's foundation stallion in his prime and so the site will be more about the horse and his people than any of my art.
Read a little more on this here
Gleep
~4″ tall relief bookend style medallion relief bookend style medallion
Was available unpainted in 2011 – some painted copies have been offered in subsequent years.
Bravo
3.5″ tall x 4.5″ long Bas relief ornament sculpted in 2010
Limited edition of 1 mold run.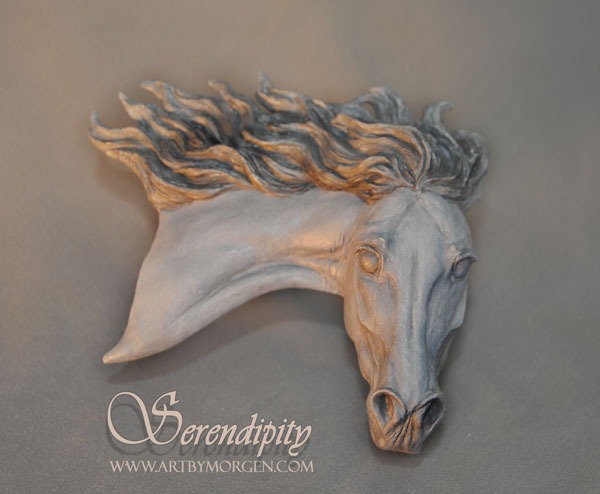 Serendipity
Bas relief ornament sold as a year long edition closed on Dec 31st 2010 at one mold run.
» view additional colors and angles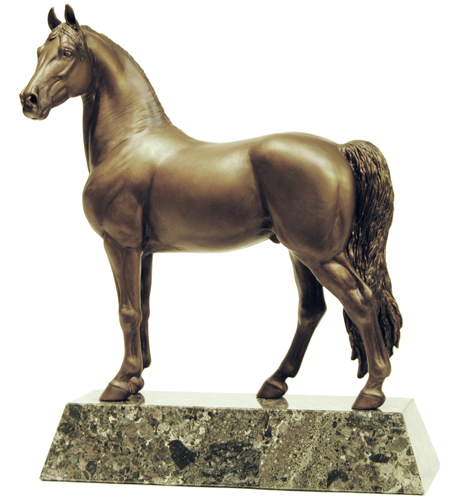 Johann
1:9 scale of a small 14.3hh horse. Above was finished and mounted to marble by special order for a customer. The resin edition was sold in unpainted white and black resin (unfinished).
Johann is the jaunty little all American riding & driving horse. Limited edition of 1 mold run.  Made available to the public in early 2011 – sold out.
Iaret
2010 Limited special one mold run edition – less than 75 castings (~5 retained as artist's proofs) Young Egyptian Arabian mare named after her pose, which is represented in ancient Egyptian hieroglyphs as a striking cobra.
» view gallery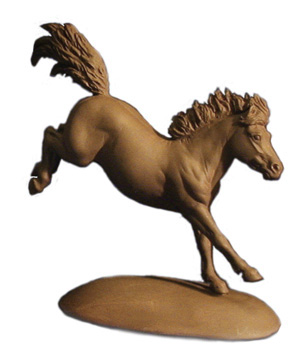 Fenwick
2009 Limited special run edition – 75 castings
(5 retained as artist's proofs) Derivative sculpture of "Flitwick", this jumping pony was sold as a benefit for a region's year end championship show. 20 castings were sold in advance to cover costs and the remaining edition was sold exclusively at the show. It was sold only with the oval base shown.
» view gallery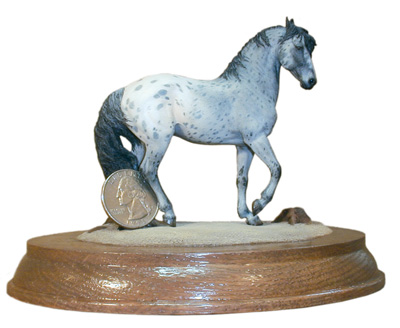 bitty bosco
Released in Dec of 2008 Limited one year timeframe edition – 350 castings
(335 sold to the public and 15 artist's proofs) Original 1:9 sculpture was digitally reduced, printed and then all details were resculpted, such as individual hairs and wrinkles.
Archived galleries, measurements and sales details can be found » click here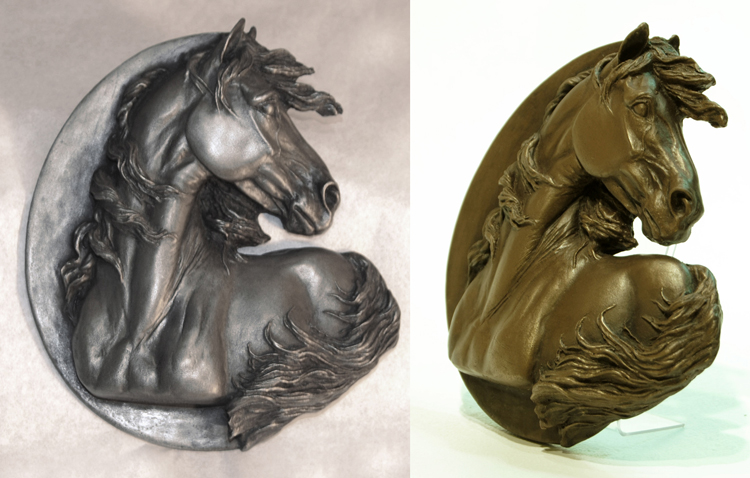 Echo
Bas relief medallion ~4″ tall.  As of February 2011 the Echo edition is now closed. It concludes as a one mold run with ~80 castings created
Echo's edition was created as an entry for NAMHSA's 2009 trophy contest without the oval background as it already was slightly larger than the contest specified. It won the honor of Runner Up and wasn't needed so the oval was added and it was sold as an independant piece starting in August of 2009. Some had a small eye hook added behind the ear for hanging as you can see on the casting shown to the left.
Hazel
Spring of 2008 Limited edition – less than 150 castings (Limited to 2 molds) (10 artist's proofs), closed in 2010. Hazel is a traditional (1:9) scale galloping sporthorse mare. The term "sporthorse" means she is a portrait of the real horse "Hazel". The real gal is a registered "American Warmblood" draft cross and who started out life as a rescued "PMU" foal. Her Heinz 57 lineage is suspected to be 1/4 draft & TB/QH although it's very unclear. She definitely has some QH and draft traits but this sculpture was designed to capture her very real "do it all" mare powerhouse nature!
Archived galleries, measurements and sales details can be found » click here
---
Landing Jumpers "Uppenovah" and  "Upton"
For a limited time remaining (less than 5 remain of Uppenovah)
Closed Limited time editions.   (see also mini versions now available!)  Click here
---

Tetradrachm
Prized stallion of the ancient Greek coin springs to life based upon art of the ancients. Representing extinct breeds such as Nisaean, Etruscan, Thessalian and Scythian. He is the horse of Xenophon and Alexander the Great.The cherished noble ancestor of many fine modern breeds today.  Closed Limited time edition.   Traditional scale – hollow cast (see also mini version now available!)  Click here