About:  Technically "tiny t" is bantam not micro scale.   This edition will be only 3d printed for me (Morgen Kilbourn) by Khrysalis Studios & Ravyin Maddock (more below) . Tiny T is from the sculpture "Tetradrachm" depicting an ancient Greek horse breed as seen on Greek Tetradrachm coins! (left above) See also Breed Information below
EDITION CLOSED
Information being left here for folks to check back on!
RESERVE YOUR COPY THROUGH $15 DEPOSIT ONLY
Available until May 26th – Total Price of $55ppd in the US is the $15 deposit and the balance to be invoiced, see queue below, when ready.  Invoice will include any additional international shipping at that time.
---
Step 1  WAS to submit DEPOSIT
Submit Paypal deposit (nonrefundable) of $15 here;
---
Step 2 FORM
Paypal should then take you to the reservation form (if not you can use THIS LINK, be sure to submit the form contact information!)
---
Await your ID to come "due" on THIS QUEUE & look for a paypal invoice at that time or log into paypal to pay.  He will ship upon payment to the address used at that time.  Please give me a few days to add your name to the queue too, it's being reviewed and done by hand.  Thanks!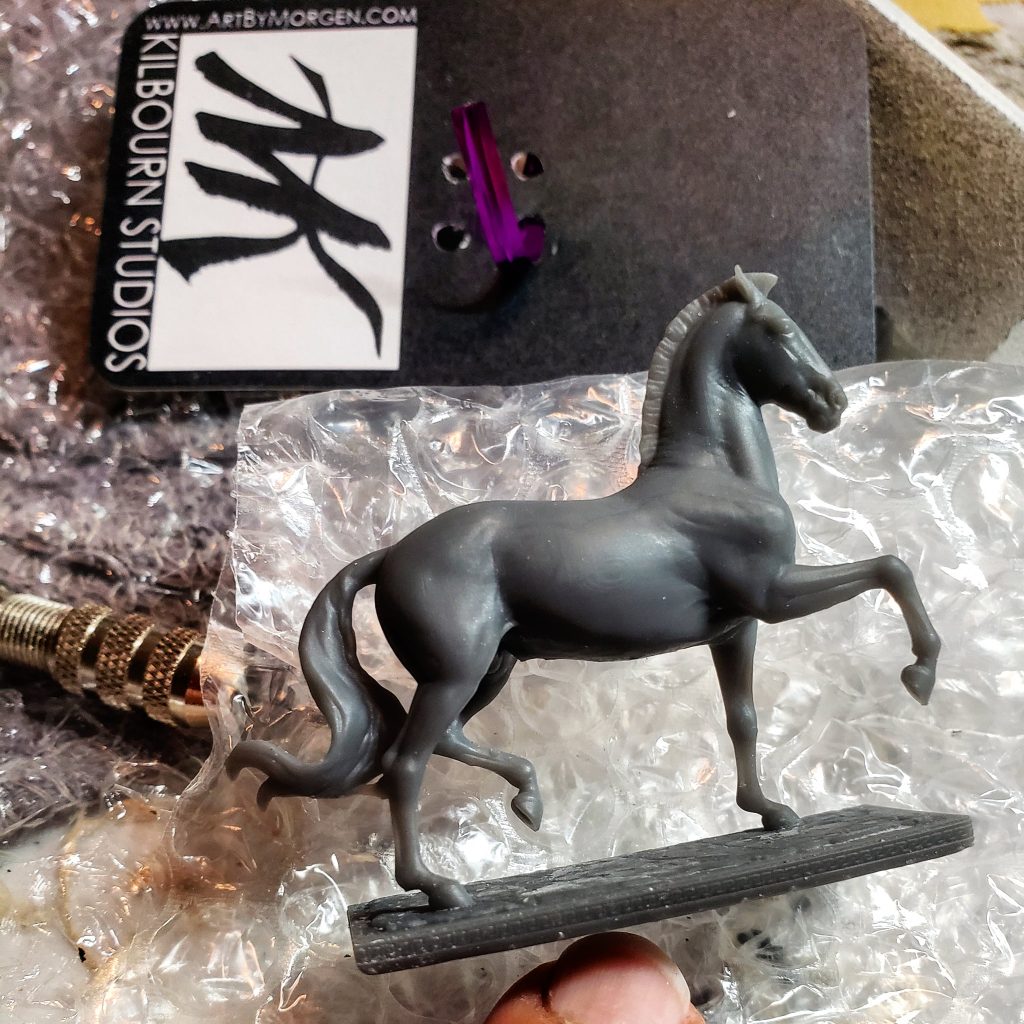 ---
GALLERY:
About the Tetradrachm Sculpture
Prized stallion of the ancient Greek coin (see actual replica of real coins alongside him!) he springs to life based upon art of the ancients. Representing extinct breeds such as Nisaean, Etruscan, Thessalian and Scythian. He is the horse of Xenophon and Alexander the Great.  This haughty stallion represents a cherished noble ancestor of many fine modern breeds today.
Some breeds he strongly resembles are light hotblooded breeds, many gaited or harness, such as the Dutch Harness Horse.
He trots over stone pavers also carefully reconstructed by Morgen to be accurate to a specific south entrance into the ancient city of Troy.  With a tiny mane style change he could represent several gaited, carriage and oriental breeds today as this proud noble bearing is timeless. More on the inspiration below.   PDF of Breed Information and Meanings Behind Inscriptions on the original base (not on micro)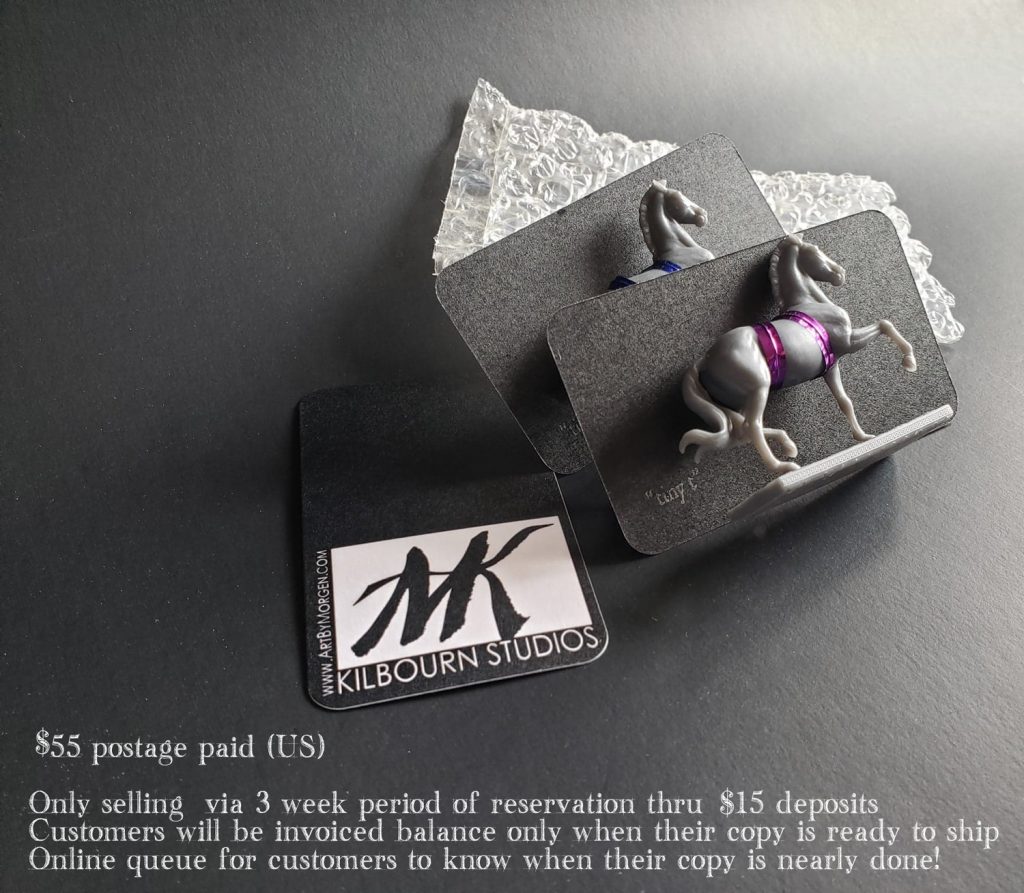 About the edition
3D Printing is being done by Khrysalis Studios – Art by Rayvin Maddockc using the same technology she used to produce 500 micronaut prints.
There were a few pewter casting prototypes made (40 of 3 scales), most of these had damage or flaws but some may be sold at some point.   Join my mailing list at the bottom of this page for any news on those.
3D Printed castings have NO SEAMS and very few little sprue-like bumps from printing supports that sand away extremely easy.  They are fragile like tiny resins. They clean up quite quickly and require less primer.  Some faint printing lines can be seen but are part of the process and typically buff out with a soft nail buffing sponge or even disappear with initial layers of paint.
I opted for this media due to the ease in prepping and ability to give customers detail closer to the original large sculptures as much as could be possible in this tiny scale!
This is fine art, not a toy.  Fragile & Not suitable for small children.