Painting Commission Policy
In the past only very infrequently did I take on painting commissions.  To see past finishwork  please view on my yahoogroup, Facebook or here on my archived finishwork page.
I'm currently wrapping up my commissions and have no plans to paint for some time – I'd like to focus on the sculpting work. So please check out the Find a Painter section where I've provided listings and information to help you find the perfect finishing artist for your resin.
Resin, China and Bronze Sales Policies
TERMS OF ALL SALES:
Edition sizes, payment methods and how to pay can all be found on each resins' page unless certain details have not been determined or aren't available yet. See also "Payments" below for terms.
When your horse arrives please inspect it as soon as possible, breaks in transit and otherwise damaged horses can be replaced. Prompt notification of flaws will ensure your purchase is replaced. After a reasonable period of time replacement castings or refunds may no longer be available, typically the artist retains a few castings for this possibility, however there is no guarantee replacements will be available – particularly after a few week inspection period has passed.
Mailing costs are typically ppd (postage paid), with one rate for US domestic and one rate for international shipments. Shipping rates not included in prices are shipping and handling fees and thus include not only carrier shipping fees but costs of printing and packaging. These rates are subject to change at any time.
PAYMENTS:
Payments can be made through Paypal, checks and money orders. Paypal credit is accepted as well. In all cases shipment will not occur until payment has cleared, typically up to two weeks, this holds true for most all money orders except United States Postal Money orders. If you would like my current snail mail address to mail a payment please contact me.
Please note that check, money order and other types of payments may take up to a full week or more to clear upon deposit as well. All effort will be made to process your payment promptly and ship as soon as payment clears. See also "Shipping".
Send paypal payments to morgen@one-horse.net .
TIME PAYMENTS:
Deposits are non-refundable as these funds are typically used shortly after you submit your order to pay the (3rd party) caster to create your casting and the other shipping costs using typically more than just the amount of any deposit value. Time payments are non-refundable as well.
As such usually your casting is in my studio and ready to ship with a month or two of your deposit and typically long before your time payments are finished.
I am happy to ship castings to alternative owners should you sell in order to fulfill your time payments in the set time frame.
Failure to pay off castings within the set time frame is considered default.
Please contact morgen@one-horse.net to discuss any problems with paying off your reserved casting in the time frame allotted.
SHIPPING:
United States Postal Service (USPS) Priority Mail is typically used for most larger resin shipping, USPS Retail Ground is used commonly in smaller or less expensive orders. Internationally shipped orders are shipped out only once a week at this time and service type varies.
Please confirm your preferred shipping address when ordering as paypal addresses or mailing address labels are not always ideal for deliveries. If a package is returned the buyer is responsible for paying additional shipping for the second attempt.
Please allow a reasonable time period for international orders to be processed through customs above and beyond estimated shipping periods. A month is not an unusual time period for some countries or times of the year, two to three months is indeed cause for concern.
A NOTE FROM MORGEN ON RESIN MODIFICATIONS:
I grew up customizing models as a kid and have added my own variations to a few resins sculpted by other artists, so I feel I would be a hypocrite not to expect enthusiastic painters to not want to express their own creative side by adding more unique features too; so go for it. Just **please** be clear about what changes have been made on any sales and ask future owners to do the same. This is also for the sake of the integrity of the work and preventing confusion amongst buyers contemplating purchasing one unpainted directly from me and not knowing what alterations you have made. I am referring here to changes to individual resins, such as a ear moved or manes and tails being redone – or complete rearrangements of one individual piece purchased. Please read below on derivatives and casting reproductions.
CASTING AND REPRODUCTIONS:
Casting anything derived from my art is a different story from simply painting or modifying the work. Absolutely no casting reproductions of any resins or derivatives (reproductions in flatwork such as posters) of my resins or their likenesses will be allowed unless seller is expressly licensed to sell my art in this format. Contractual licenses and royalty fees must be obtained and both parties in agreement prior to the creation of said likeness or reproduction. Absolutely no use of any likeness of my customer's work for any type of public display or sale is granted in any way through Morgen or this website. See also my rights reserved over derivatives below.
PLEASE NOTE – DERIVATIVES AND LIKENESSES:
I do NOT endorse any artist who attempts to recreate a derivative or 'likeness' of my sculptures in any scale or media, be it from scratch, a Breyer or Stone plastic model, or another artist's resin customization. There are plenty of ways to sculpt any of these poses I've done and still have it look terribly different from my own ideas. Intentional attempts at reproducing any type of likeness to any of my sculptures will not be tolerated. Intentional copying is wrong. Period.
IT'S THE LAW THOUGH! Please make sure that my signature mark is not removed and that credit for the original is still given to me. Absolutely no casting reproductions of any resins or derivatives of my resins will be allowed.
Image Use Policy;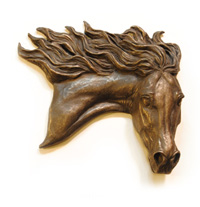 All images on this site have been submitted and are credited to their original photographer or are the exclusive property of One Horse Productions and Morgan Kilbourn. ABSOLUTELY no linking directly to my site! (aka "hotlinking") Please ask to use photos and store them on your own web space. Please send any corrections and updates to morgen@one-horse.net .