Special Sales for a limited 1-2 day time!  May 7th 2017
I will be moving these (look here for links) over to MH$P or eBay in the coming days so act now.  If you would like to pay by credit card I think the PayPal links here will allow,  but if not I can send an invoice which will allow this too.  NO TRADES.    Time payments considered but not preferred – email questions to morgen@one-horse.net
---
ITEMs #1 & 2) GLOSSY AQHA Breyerwest Volunteer SOLD
The were given to me for judging and demo-ing Friday and Saturday at Breyerwest.  I can provide any sort of text or the provenance letter to aid you in verification.   They both have roug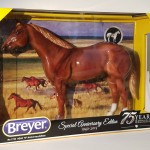 h seams on the left jaw. I've got a close up I can send but I have seen at least one other exactly like this too so believe it to be (based on OF folks assuring me) it's common for the mold.   1 has a small dot on inner thigh and is priced $10 less as a result.    Neither have been removed from boxes so I didn't take many photos yet.  Can provide.
SOLD
---
ITEM #3)  LAST BOBBY JO  SOLD
Originally I was selling one of my unboxed copies but I've decided to keep that and sell the more pristine last Artist's copy they gave me.  I see no major flaws (but please if you are worried immensely about this sort of thing ask me to text or message you for more photos all over before you buy).  This is a GORGEOUS paint color copy. It's signed as such to denote it was from my personal copies sent from Breyer, using my standard sig and then "MK Artist's Copy" to give it provenance.    Comes with COA and velvet bag.  Can come with box if wanted.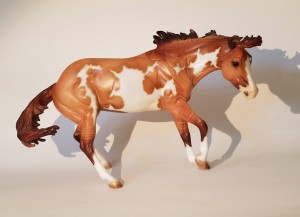 Last Bobby Jo – signed Artists Copy
---
ITEM #4) MINI HAZEL SECOND  SOLD

Missing ear tip so $20 off.  See photo enlargement.
---
ITEM #5) TETRADRACHM SECOND SOLD

Blip of resin filler around sprue hole (surprise location of spill hole on top of rump!) 🙂   Also seems to be a bit spilled on rocks.  Otherwise nice copy and very easier to clean these up with a couple sandpaper swipes! $60 off!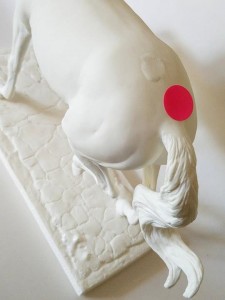 ---
AMAZING TACK SETS!!! 
I went around and around about selling ea of them as these were obtained over the years and almost every time with these I've gotten a NAN card (or made a mistake not the fault of the tack).  These are exquisite but they have sat in my tack trunk for years now, some used only once or not at all due to not getting to performance shows (always judging or workshops or vending or something now!).  It's time to let the tack maker's amazing works pass on to more deserving hands.
More props and bits in hand in trunks but these are by far some of my best treasures, mostly sets.  Don't like a price?  Make an offer but again, no trades please! 🙂
---
Tack Set #1) Lynda Strohmeyer Gillette Native American Warrior set.

Made originally to fit traditional Hazel.  SOLD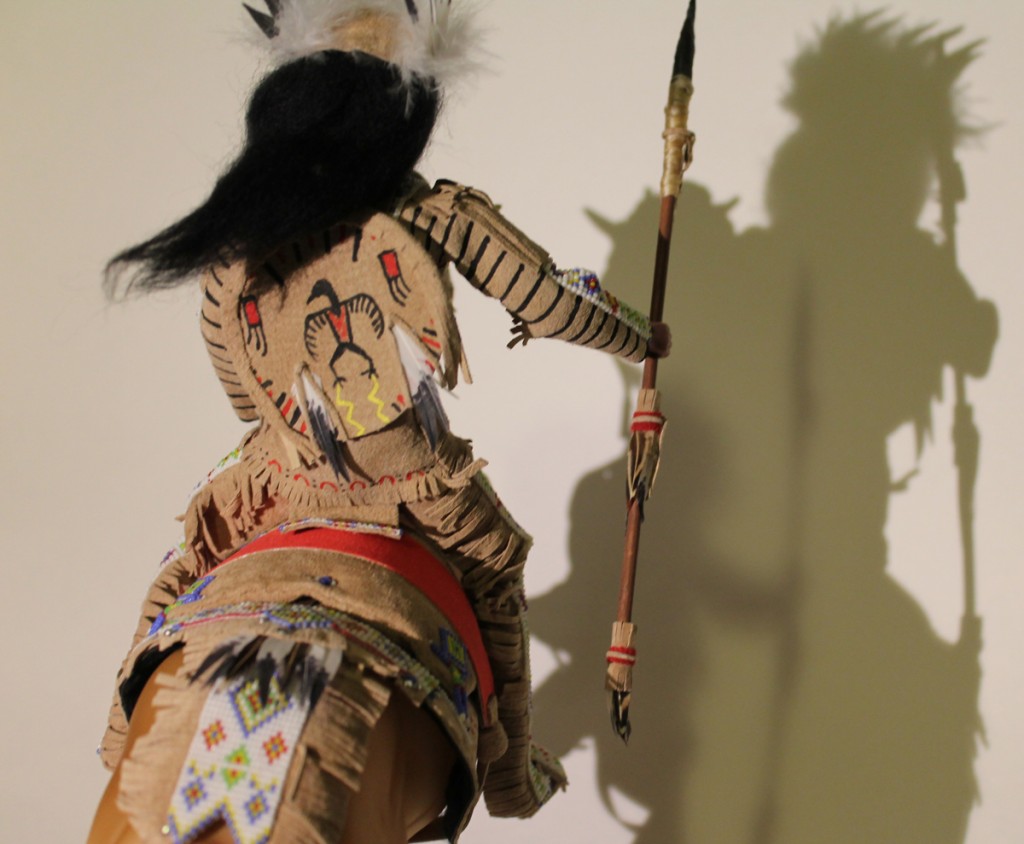 I messed up (I'm so undeserving of this work of art!) and didn't put the war bridle on correctly but provided some close up photos later of how it is sticky waxed to the mouth.  This was used just once I believe and it won easily for me.  It's fast to set up too!  Put on with sticky wax and just one snap it's super easy to tack up.  Warrior brave paint work is astounding.  I don't know nearly enough about it and it's languished in my tack box far too long – save it from me!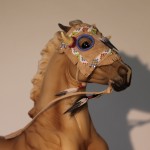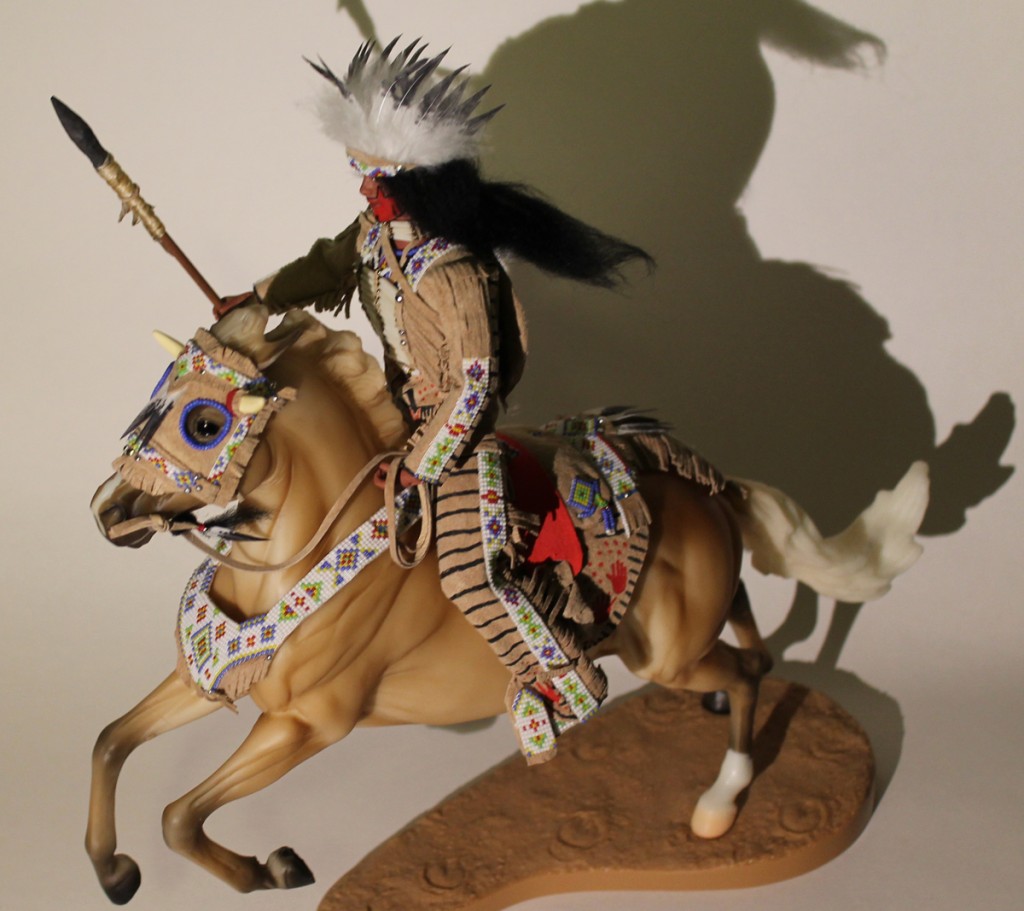 ---
---
Tack Set #2) Lydia Ernszt A. L. E. Ranch Studio  Parade and Flag Bearer set  SOLD
I have used this with Hazel and Godiva in both situations and NANed – the spangly dangly breast collar makes for a lovely parade set if not galloping, or the rope patriotic one (I wish I could remember who made the rope collar, not ALEs originally) works great for high action!  Lots of options here, will come with a flag too if you'd like.  Easy on bridle again with sticky wax… my quick cheat!  Browband, red throatlatch, spare spangles and spare white hats come with this.  Amazing fun details here.  Her hair under her hat could use a little smoothing maybe and her legs argue a bit (although sticky wax would solve that, it's the pointy chaps I think but I'm afraid to mess with that!), but overall it's in pretty good shape.  I made the extra flag pad to fit smoother underneath (did this with all my non-felt pads), and glued white satin under to keep it from coloring my resins.    VERY eye catching fun entry!  Have had this the longest and I think it's NANed nearly every time as well.
---
---
Tack Set #3) Lydia Ernszt A. L. E. Ranch Studio Working Old-Timey Ranch Trail Saddle SOLD
I'm not sure I got the terms right on what type of older classic ranch saddle this is, but it's super charming and "worn" (intentionally) in!  It's perfect for action or standing horses though, tons of details.  Also shown once and NANed once I believe.    Comes with extra brass colored brads and a pad never used.  My black felt pad also included (it's my simple go-to).  Long split reins got cut off in photo but can share more pics if need be.  This price is too low so get me before I change my mind here!
---
Tack Set #4) Charlotte Pijnenburg western pleasure set  SOLD
This has NANed for me although I only remember using it once. It's super refined and elegant.  Obviously doesn't belong on a spinning horse but white body here… 🙂  Made for Godiva originally I think it will fit most horses the way it's fully customizable and I haven't trimmed anything.  Nice heavy metal tree I believe.
---
Tack Set #5)   Darla Curtis Doll *AND* Kristen Haley Gymkhana saddle set (matching bridle and collar)   REMOVED since other items sold!
EVERYthing matches!  Doll and saddle set were put together by these artists to go together.  I am exceptionally reluctant to break up this set… but if I cannot sell together I might have to.  Darla's doll has fun details down to the bling on her belt and matching roses (to the saddle) on her boots.  Kirsteen's bridle and breast collar are quite a fun design alone and little details like the small zebra striped conchos all over add to the extras!    I do not believe I ever got the chance to show this at all – only to model a saddle on the back of my Ranch Mare resin.  I'm pretty sure I've had it for 3 years now.  There is no girth with this set.
---
---
Tack Set #5)  Kirsteen Haley bridle and alternate hackamore (unused) SOLD