Many Artist Resins have been cast into bronze.
Like a resin but would rather have it in bronze?  Please feel free to inquire as pricing is drastically changing and foundry dates are up to nearly a year's wait as of 2021.
Unfinished Resins
New Limited Edition "Xlurpie" is orderable ONLY for June 2022:  check her out in our NEW SHOP!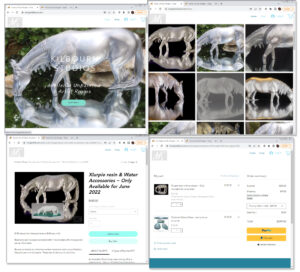 "Xlurpie" – Only for the month of June –  $485 with water accessories  ~ or ~ $455 for Xlurpie resin only without water accessories.
Time payments for up to one year Click here to order now
---
 Mold Nearly Closed, PLEASE INQUIRE BEFORE PURCHASE  Few Copies Left (Big Boy!) Russian Vladimir Heavy Draft "Viktor" – $425 (postage not included)
VIKTOR is being cast as a 1:9 scale (traditional scale) hollow cast resin and he's available to order & sometimes in stock! Click here to order now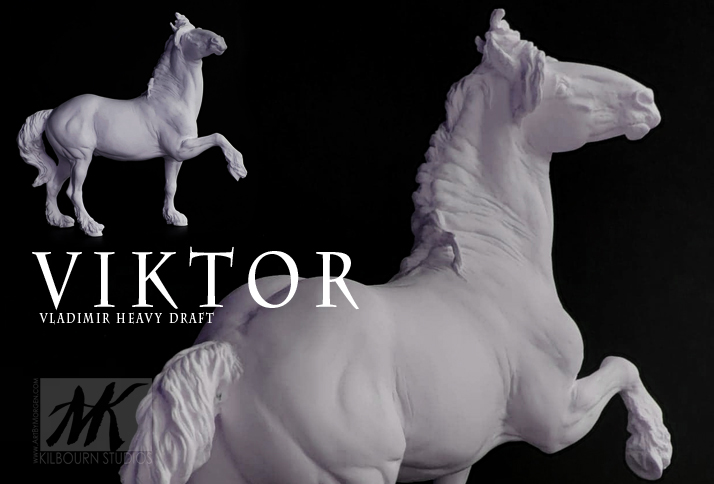 ---
Pewter Seconds Micro Scale!
---

"Diminutive Duke" – $30-44 (US)
Some firsts, some raw, some seconds remain Click here to order now
---
Very Limited Quantities:
---
Shown here mounted to marble in cold cast aluminum and cold cast bronze
CHECK AVAILABILITY BEFORE ORDERING Baroque Horse Bust – as shown mounted to marble base and some ceramic versions
6.86″ tall (on base) by 4.5″ wide
Sometimes offered (as shown) in cold cast metals mounted to marble bases in various color combinations. Currently offered in a few galleries.  Contact for custom order.
---
Elmhurst fundraiser medallion sold as white resin and cold cast bronze
This hanging ornamental medallion is being sold as a fundraiser by OMRH, a 501(c)3 charity that houses retired Thoroughbreds.  See Our Mim's Retirement Haven
RECENTLY CLOSED EDITIONS
---
Wycked Wynd, Wycked Furyous and Midi Max Were all Limited Time Editions for 2021.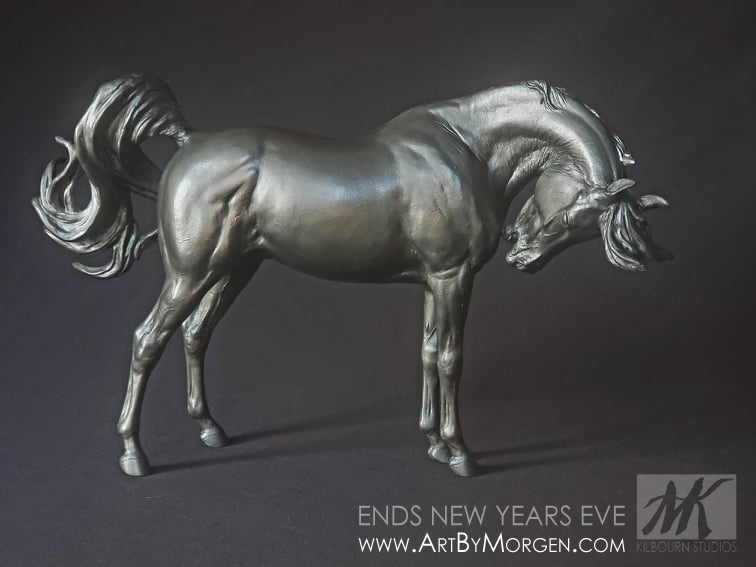 ---

Landing Jumpers "Uppenovah" and  "Upton"
Both Braided and Loose Mane Versions Were Limited Time Editions.   Traditional scale – hollow cast available to order in white unpainted resin! view archived info here
---

Tetradrachm
Prized stallion of the ancient Greek coin springs to life based upon art of the ancients. Representing extinct breeds such as Nisaean, Etruscan, Thessalian and Scythian. He is the horse of Xenophon and Alexander the Great.The cherished noble ancestor of many fine modern breeds today.
Was a Limited time edition.   Traditional scale View archived info here