Pewter Diminutive Duke will be been being offered in batches.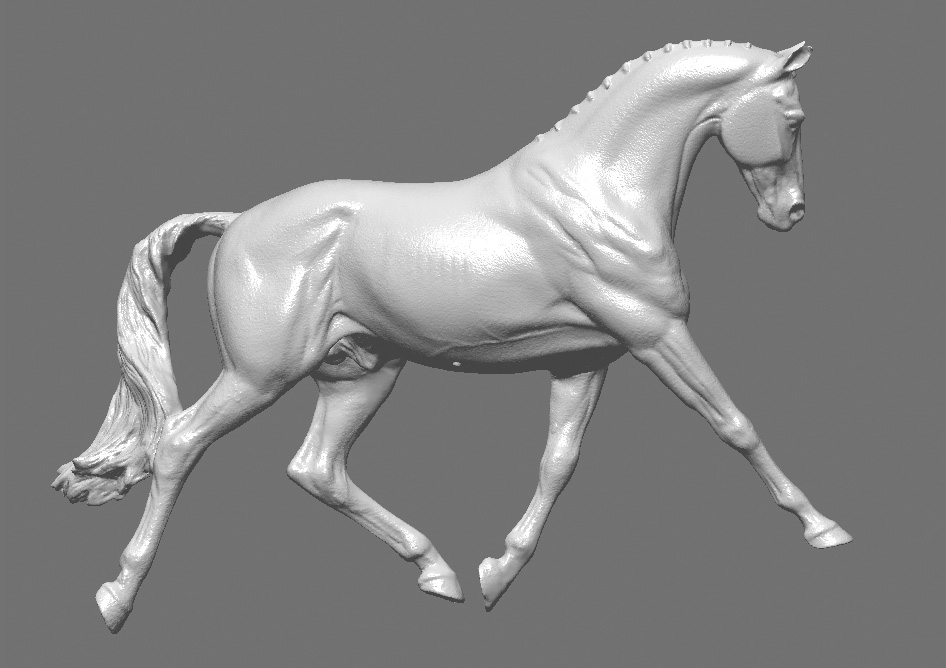 Diminutive Duke is from a 2005 scan done of my traditional (1:9) scale "Deputed Duke" sculpture after a real Thoroughbred stallion I bred my mare to.  There was also a "dinky duke" version in stablemate (1:30) scale.  The traditional and stablemate sizes had pegs under their raised legs.  Diminutive Duke would also work well off base with tiny pegs (best glued on after painting so they stay clear).
For 360 View Check out my instagram page where I bend and unbend one!!!  https: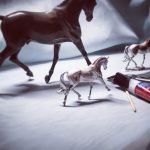 //www.instagram.com/p/Bw9shb6hR8s/  PEWTER IS AMAZING!
He can also be removed from base and wooden toothpick tips can be used for pegs just like the 2 bigger resins were sold as.  Picture of that to right: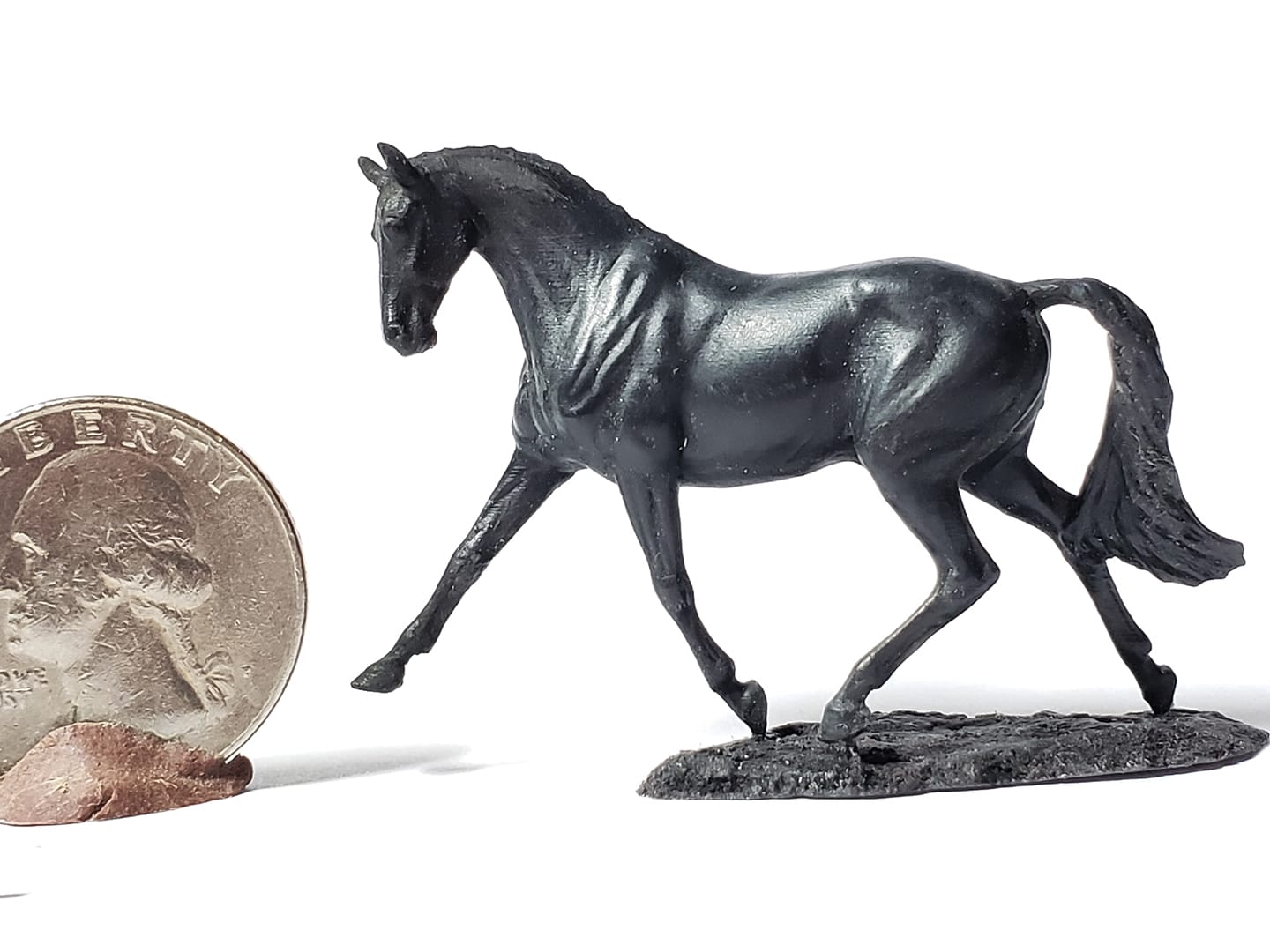 Sales method note: it has occurred to me to point out to folks worried about the timing of emails..  Be sure to join my mailing list, at the bottom of the page OR in contacts (the Yahoo group has archives first off to see if any were missed..).  Aaannnnd ➡️ simply refreshing my website at the times I give out (2days in advance will be given on these mailing lists) will make the link appear at the bottom of these pages if you fear you didn't get an email on time…In the immortal words of Douglas Adams, DON'T PANIC!   ➡️ Links are alphabetically ordered and his name is the page name so "Diminutive Duke". The page will disappear a few hours before each batch so I can update it… then it will appear there in the footer when his page goes live for the next active batch…
BATCH #4 , two types of 1st quality and two types of 2nd quality castings, please select carefully! 
SOLD OUT OF GOOD 1st QUALITY CLEANED CASTINGS "Diminutive Duke" in Pewter
___________________________________________________________________
Off-base SECOND QUALITY CLEANED CASTINGS "Diminutive Duke" in Pewter:  $34  PPD (POSTAGE IS INCLUDED IN THIS PRICE) IN THE US  [quantity 10*]
See photo above with superglue, click on this.  These are just like the bigger versions and I've found that gluing tooth pic tip bits is the strongest type of tiny peg.  Traditional Deputed Duke only had a peg under the hind leg.  Curio Dinky Duke had a peg under both raised legs.  Micro Diminutive Dukes stand ok with just the peg under the hind, but even the base will be included if you wish to try soldering or gluing back to base too.

___________________________________________________________________
Minor holes in base, SECOND QUALITY CLEANED CASTINGS "Diminutive Duke" in Pewter:  $44  PPD (POSTAGE IS INCLUDED IN THIS PRICE) IN THE US
These are in excellent shape and in some cases you can hardly spot the flaw because it looks intentional.  Beginner level repair,  very easy with epoxy.

___________________________________________________________________
RAW 1st QUALITY CLEANED CASTINGS "Diminutive Duke" in Pewter:  $30  PPD (POSTAGE IS INCLUDED IN THIS PRICE) IN THE US  [quantity 18*]
These are in excellent shape and just have not been cleaned up yet.  There is a thick brace between the base and horse (a sprue) that needs to be dremelled off carefully.  Instructions will come with suggestions one easy ways to do that.  DO NOT use nippers, it twists and likely will pop the closest hoof from base. Unless you wish to remove from base and use a peg which is easy too.  May have small bits of flashing but these molds were pretty clean. Not carefully inspected.

___________________________________________________________________
ADDITIONAL SHIPPING ONLY NEEDED FOR INTERNATIONAL CUSTOMERS email me AFTER PURCHASE  at morgen@one-horse.net and include your address and quantity / type ordered under whatever your paypal address is.  I will send invoice in 24 hrs most likely.
* Due to internet signal strength I may not be able to update when quantities run out.  I will try to however, but it's been going out these last few evenings..
IMPORTANT:  When checking out please be sure to double check the address you are using: Updates to shipping addresses will not be accepted, they need to ship through this cart system, castings are going to be shipping nearly immediately .
Batch #1 was 30 pewter castings  (sold 4/16 at 9:05pm)
Batch #2 was 100 pewter castings (sold 5/2 at 12:05pm)
Batch #3 was 100 pewter castings (selling 5/27 at 11:05am)
Castings are in hand, boxed and will be mailed immediately using your paypal address.
Due to the limited nature of this molding process, future replacements may not be possible so a 72hr inspection return period will be given for a full refund.   Please open and inspect immediately and notify of any damage. Replacements may not be possible.   This ultimately will be a limited # edition.
Please also see terms of all sales on the Policies page